The men of Glider 50 found themselves surrounded by Italian positions until they were rescued by the SAS troopers of the Special Raiding Squadron (SRS).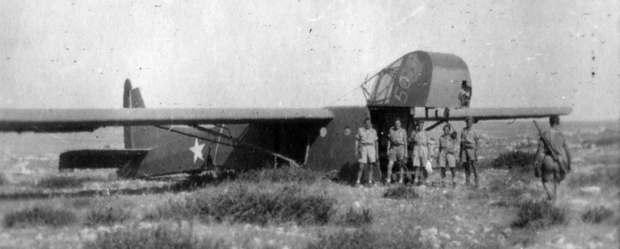 Glider: CG-4A Waco 50, serial 277213.
Glider carrying: 11 Subsection, 3 Section, 9th Field Company Royal Engineers.
Troops' objectives: To support the 2 South Staffords at the gun battery Mosquito or the Ponte Grande & Putney bridges (for a guide to the objectives, see [here])
Manifest
12 O.Rs.
= 2400 lbs
1h/c. 600 lbs
2 bicycles 70 lbs
Stores 280 lbs
= 950 lbs
Cpl. Lake H.
L/Cpl. Shelton C.H.
Spr. Lawson A.
Spr. Young E.
Spr. Owens W.
Spr. Baker S.
Spr. Bugden H.
Spr. Hannabuss I.
Spr. May G.H.
Spr. Johnstone J.
Spr. Bamford V.
Spr. Seymour C.
The engineers in Glider 50 had been assigned to work closely with the 2 South Staffords, to support them in capturing and neutralising their objectives.
Glider Pilot's Report

Glider allotted Landing Zone: LZ 1 [map].
"Glider experienced trouble from slipstream from formation ahead. Intercom went u/s after 1 hrs flying. Flak was experienced from coastal batteries. Glider released at 2230 hrs, at 1800 ft, approx 2000 yds off shore and made successful landing on L.Z., but broke undercarriage."
First Pilot: Sgt Vickers
Second Pilot: Sgt Sutton
The GP's report is wrong in describing a successful landing on the LZ. In fact Glider 50 landed on the other side of the Maddalena Peninsula, 2.5 miles away from its target LZ 1.
Like some other gliders [story], Glider 50 barely made it onto the top of the cliffs. Perhaps the pilot had to make an emergency climb to avoid smashing into the cliffs, resulting in a stall onto the rocky ground. A later examination showed evidence of a heavy landing, resulting in the glider's tubular steel frame buckling, which was very unusual:
"Passed through barbed wire on landing. Rear part of fuselage bent up on underside just back of cargo compartment. Wings washed off but inside in perfect condition. The damage to the fuselage has obviously been done by rocks."
Tug Pilot's Report
Tug: C-47, 41-18471, 28 Squadron, 60 Troop Carrier Group, 51 Troop Carrier Wing USAAF. Second aircraft in element 6.
Takeoff: Between 18:48 and 19:15 hrs, from Airstrip B, El Djem No. 1 [map], Tunisia.
Pilot: 1st Lt Chartier, John C.
Co-Pilot: 1st Lt Cavan, David B.
Rad Opr: Sgt Sherman, Nelson
"Hit rel? Yes
Time of release 2235
Altitude 1800
Vary from course? No
5 degrees to right on first leg. S/L's and flak around city."
A further report coupled Gliders 50 and 51 together:
"Their route was about the same as others. There was a fire on the tip of a point. Released gliders at 2000 feet at 2234 hours and climbed to 6000 feet on return."
The Action
Cpl Lake, the senior passenger in Glider 50, gave this report to Capt Holmes, his CO, who landed in Glider 46 [story]:
"This glider landed far to the east of L.Z. only making the coast by 20 yards. It landed between two coastal pillboxes, about 300 yards apart. However, both these positions only fired a few shots at the glider and then ceased fire; so Cpl. Lake unloaded his handcart but had not dragged it 50 yards, when he was again fired on, this time more heavily. He decided to leave the handcart and hid it beneath a wall. During the night they endeavoured to go west but were unable to find a clear way through."

With a pillbox to the south, a machine gun post to the north, and the sea to the east, only west was left as an exit route. However going west would have brought the men of Glider 50 up against the barbed wire surrounding Italian gun battery AS 493. The gunners would have been on full alert, and at times in full action against Allied aircraft, for example during the bombing of Syracuse [story]. They later shelled Allied shipping.
Holmes' account continued:
"Consequently when dawn came they lay up until they saw some Commandos with whom they joined up. This party then joined up with some Borders and Brigadier Hicks. The latter ordered Cpl. Lake to destroy some enemy weapons in a cave, which he did. The whole party then moved west, spent the night near the main N – S road to Syracuse and finally marched to 'Walsall' on Sunday morning where they rejoined the section. I saw the place where this Glider landed and I consider Cpl. Lake did a pretty good job to get his handcart out of the glider at all."
The 'commandos' were in fact men of the SAS Special Raiding Squadron (SRS), who by this time had taken battery AS 493. In addition to some 285 SRS troopers, their party now included scores of Italian prisoners and many rescued glider men. The latter included Brig Hicks, the CO of all the glider troops, who had landed in the sea in Glider 2, piloted by Lt Col Chatterton, CO of the glider pilots. If Lake and his men stayed with this huge cavalcade of diverse humanity, then they spent the night with the SRS at a farm called Luogo Ulivo, about 1 km from the main highway, SS 115. Once on the road, it was a weary trudge in intense heat to rejoin their units in Syracuse.
.
With thanks to the Muirhead family for permission to use a photo from Alex Muirhead's album.